Want proof? Here is the official statement I got today (translated by yours truly for your convenience):
The Commission of the Headquarters of the Ministry of Internal Affairs of the Russian Federation for St. Petersburg and the Leningrad region for the recognition of foreign citizens or those without citizenship as native Russian speakers.
DECISION
April 9th, 2021, #581
On the recognition of citizen of the United States of America Lyle Blaine Thomas as a native Russian speaker
Lyle Blaine Thomas, 09.16.1966, native of the United States, after graduation from Virginia Commonwealth University began his career. L. Thomas is registered at [our home address] in St. Petersburg.
The basis for application to the Commission by L. Thomas rests on the fact of his living on a permanent basis on the territory of Russia. The fact of said permanent residency was confirmed by documentation.
During his interview with the Commission, L. Thomas demonstrated complete knowledge of the language system and fluent mastery of Russian according to the expectations of Appendix #4 of the order of the Ministry of Internal Affairs from April 16th, 202, #227….
Under the guidelines of article 33.1 of Federal law…, and considering that L. Thomas has mastered Russian and uses it in common everyday practice and in cultural contexts and lives permanently on the territory of the Russian Federation, the Commission has decided to
RECOGNIZE:
citizen of the United States of America Thomas Lyle Blaine as a native speaker of the Russian language.
Basis: Protocol of the Commission meeting #11 on April 9th, 2021.
Commission representative S.V. Silina
So what's this all about? Well, several months ago Putin signed an order allowing foreigners becoming Russian citizens to not have to give up their original citizenship, as had been the case. So it opened a door for me, and our family. Citizenship gives several advantages, mostly having to do with releasing us from travel restrictions and annual paperwork to justify our presence. If I get citizenship first through this route, then the rest of the family can follow along in my train.
But no, I'm not a citizen yet. This part of the process just gives me the right to apply for citizenship on an expedited way. The only other path we had to citizenship involved never being gone from Russia for more than 3 months at a time for 5 years in a row. We weren't even close.
The original lawyer I spoke with said she didn't even think I could pass. "You speak pretty well, but they can ask you anything they want to, like the meaning of a saying." But the officer at immigration told me to give it a go, that it wasn't as strict as it had been. So I filed the paperwork and appeared, with about 100 others, at the House of Culture of the Ministry of Internal Affairs on April 9th. We appeared, one at a time, before the Commission. That means going alone into a big, dimly lit conference room, sitting at a desk with a lamp at the foot of a slightly raised stage where the 6-7 members of the Commission (mostly faculty at various departments of language and philology from local universities) sat in a row behind a long table and looked down at you in expectation.
"So tell us about yourself."
I spoke of my family's 14 year residence in Russia, plus my own experience living in St. Petersburg when it was called Leningrad in 1987. I mentioned proposing to my wife while living in the republic of Kyrgyzstan.
The original purpose of the provision to prove language fluency was for residents of former Soviet republics who were raised in the Soviet system and thus would obviously know Russian well. It was also for those whose parents or grandparents had been citizens of Russia. I had neither of these cards to play, so I played my mediocre hand: experience in Russia going back over 3 decades. But then I pulled out my surprise trump card:
"I have no relatives from Russia, but I recently found out something about myself that I never knew. According to the genealogical database of the Mormon church it turns out I have one connection to Russia: I am a direct descendent of Prince Vladimir." To say that I got a reaction from them at this point would be an understatement. They were visibly pleased. After all, almost no Russian has a genealogy more than a few generations, but mine not only goes back over 1000 years, but it connects me to one of the key figures in all of Russian history – the man responsible for bringing Christianity to the Rus. I wrote another post on this discovery here.
They then asked about my work, and all seemed to be going well until one of them asked, "Do you know the saying, 'Measure 7 times, and cut once'?" I fumbled. I barely understood the words, though in retrospect I had heard this saying and should have known it. I made a guess, but I admitted I didn't know it.
"But do you use any Russian sayings?"
"Oh, yes. I even use the story of the Lobster, the Pike, and the Swan in my own teaching to demonstrate the importance of understanding the values of others."
Here is the story, in my own translation: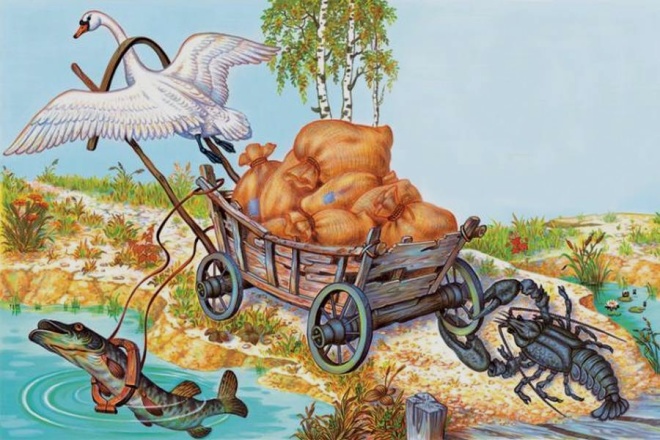 WHENE'ER companions don't agree,
Nothing they do can go smoothly;
And trouble is their labor's only fruit.

One day a swan, a pike, and a lobster
Resolved a load to haul;
All three were harnessed to the cart,
And pulled together all.
But though they pulled with all their might,
The cart-load on the bank stuck tight.
The swan pulled upward to the skies;
The crab did backward crawl;
The pike made for the water straight —
It proved no use at all!

Now, which of them was most to blame
'Tis not for us to say;
But this we know: the load is there
Unto this very day.
Our conversation continued:
"And do you know who wrote that story?"
"Krylov."
"And do you know that there is a monument to him here in the city? Where is it?"
"It's in the Summer Gardens."
"Well, I think we have asked enough questions."
Total time to prove my facility with Russian – about 3 minutes.
For some reason, I'm kind of proud of this, maybe more than all my efforts to establish temporary residency back in 2009. More than getting permanent residency in 2012. (No, I have no plans to renounce my U.S. citizenship since we can have dual citizenship under the new rules.) Whether I get Russian citizenship or not, there is something about getting a stamp of approval on a different level than through mere legal standing. This was more on the level of a subjective assessment that I fit here, that I know these people, that I "speak their language" – both literally and figuratively. It's like they have said, "We think you are one of us. Glad you are here."